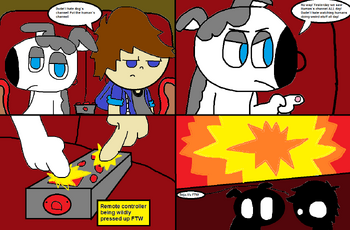 Comix!!!
 is a series created by 
Arturo3x!
. The series started in a 
blog post
 created by him on the Regular Show Wiki. The series is about Arturo and his friends in adventures or sometimes normal funny things. The series is currently in its third season. The series was canceled once, on September 22, 2012. It however, returned one month later with the episode 
Credential
.
Di'angelo and Arturo are sitting on a sofa, watching TV. Arturo comments on how he hates watching the Dog Channel and for Di'angelo to change to the Human Channel. Di'angelo retaliates saying that they watched the Human Channel all day yesterday and hates watching humans do weird things all day. Soon, it spirals into the both of them rapidly pressing the remote back and forth between the Dog and Human Channels. Finally, the force of the button pressing causes the remote to explode in their faces, leaving both of them black from the explosion.
Side Animation
Edit
Five days later, Rigbybestie did a skit on (Regular Show) chat and decided to make an animation with it. It's practically Di'angelo bragging to everyone that he was in Comix!!!. 
The is the first series created by Arturo3x!
This is the first comic appearance Di'angelo was in that wasn't made by Rigbybestie.
This was requested by Rigbybestie after Arturo3x! asked what (the users) wanted to see in Comix!!!.
This Comix!!! was made on Janurary 19, 2013.